About L'Atelier du Sel Camargue
About L'Atelier du Sel Camargue
Let's sublimate your dishes naturally
Atelier du Sel Camargue gives flavor to your dishes by offering you a range of 100% natural flavored salts. Our flavored salts will replace overly rich sauces to give you a unique, healthy and delicious taste experience. Rediscover the authentic flavor of food!
Because we know that for everyone's well-being, it is essential to take care of your diet while enjoying yourself and consuming responsibly, we make it a point of honor to work with quality products, from short circuits and mainly from responsible and organic farming. As well as preserving the craftsmanship, supporting the local economy and its producers.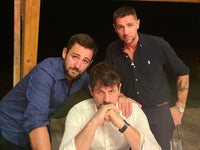 A family story
From the know-how of the Escobar brothers comes a range of salts harvested at the Salin du Midi, from organic farming, made from natural herbs: salt with sand wine, shallots, fresh basil, fresh garlic, citrus...
From their love for the Camargue and their know-how transmitted over several generations, the desire to create Atelier du Sel Camargue was born.
Handcrafted production
Passionate about the taste and the exceptional quality of the products of our region, we have created the Atelier du Sel Camargue product range, 100% Made In France.
We have selected the best local producers to offer you salt, IGP rice and other exceptional products.