Refined selection of Camargue salts
Our box contains three Camargue salt mills, each offering a unique taste experience. Plain salt, Le Gitane salt and crazy salt with Espelette pepper will enhance your dishes and delight your taste buds.
Exceptional rice duo
This box also includes red rice from the Camargue IGP, with fruity and spicy notes, as well as long grain rice from the Camargue IGP, with a fine and light texture. These two exceptional varieties will allow you to vary the pleasures and give free rein to your culinary creativity.
Original gift idea
This gourmet box is the ideal gift for epicureans and lovers of authentic flavors. It will also delight budding cooks and gourmets looking for inspiration.
Composition
Salt net weight: 345 grams (3 x 115 grams).
Natural salt mill: Coarse Camargue salt.
Le Gitan salt mill: Coarse Camargue salt, garlic powder 1.2%, rosemary 1.2%, turmeric 0.8%, cracked pepper 0.4%, ground pepper 0.2%, pink peppercorns 0.12%.
Le Fou salt mill: Coarse Camargue salt, chilli 2%, paprika 2%, Provence herbs 1.2%.
This salt is 100% natural, untreated, from organic farming, without artificial coloring or preservatives.
Net rice weight: 1 kilogram (2 x 500 grams).
IPG Camargue red rice.
Camargue PGI long grain rice.
Use
Camargue salts to season all your dishes with elegance.

Red rice: 18 min in water.

Long rice: 11 min in water
Conservation
Store in a dry place away from light and humidity.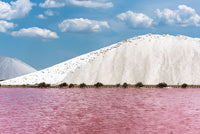 Un sel d'exception
Récolté aux Salins du Midi à Aigues-Mortes, le sel de Camargue naturellement blanc est reconnu mondialement pour sa finesse et son goût unique. Le sel de Camargue est le fruit d'un savoir faire ancestral transmit de générations en générations.
Par son équilibre en sel minéraux, le sel de mer reste l'un des meilleurs pour notre organisme. Il est riche en magnésium, calcium, potassium et en oligo-éléments.
Contrairement à d'autres sels, une pincée suffit pour sublimer les saveurs de vos plats.

Des aromates de première qualité
Passionné par le goût et la qualité exceptionnelle du sel de Camargue, l'Atelier du sel, a élaboré dans le respect du savoir-faire traditionnel, une gamme unique de sels aromatisés à partir d'ingrédients naturels : herbes fraîches, sel au vin des sables, échalote, ail, agrumes...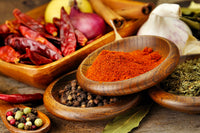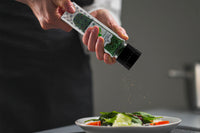 Une utilisation simple et pratique
Notre moulin à Sel de Camargue aromatisé est doté d'un mécanisme de broyage garantissant une mouture parfaite et une utilisation facile. Il suffit de tourner le moulin au-dessus de vos plats pour libérer les arômes puissants de l'ail et la saveur délicate du sel de Camargue. Une légère torsion suffit pour transformer vos plats du quotidien en créations culinaires dignes des plus grands chefs. Grâce à ses deux positions optez pour la mouture qui vous convient.
Ce moulin est compatible avec les recharges de gros sel pour moulins.
Une design élégant et intemporel
Ce moulin à sel se distingue par son design raffiné et élégant. Son corps en verre s'adaptent à tous les styles de cuisine, qu'elle soit moderne ou traditionnelle. Son format compact le rend facile à ranger et à transporter, vous permettant d'emporter la magie de cet assaisonnement où que vous soyez.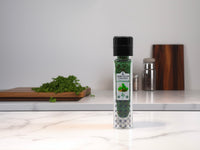 Le riz de Camargue IGP
Le riz de Camargue IGP est la garantie d'une origine géographique protégée offrant un savoir-faire unique. En France, le riz est essentiellement cultivé sur le territoire de la Camargue.
Le riz de Camargue est naturellement parfumé, généreux en variété, en couleur et détient de nombreux bienfaits nutritionnels. C'est un céréale issue d'un terroir d'exception dévoué aux traditions comme aux innovations gastronomiques. Il tient ses particularités du climat et de l'équilibre naturel du territoire sur lequel il est cultivé: terre riche, eau saline, vent et soleil.

Produits 100% Français
L'ensemble de notre production est locale et artisanale.
Livraison rapide et sécurisée
Nous livrons partout en Europe.
Paiement sécurisé
Toutes les transactions sont sécurisées par une encryption 256 bit AES.
Service client 5★
Notre service client vous accompagne par mail ou par téléphone du lundi au vendredi de 10h à 18h !