Collection:

Plain Salts
Immerse yourself in the pure and authentic universe of our collection of natural salts. These gems of nature, harvested with care and respect, will make you rediscover their splendor and simplicity.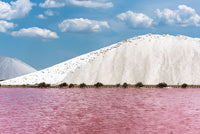 Un sel d'exception
Récolté aux Salins du Midi à Aigues-Mortes, le sel de Camargue naturellement blanc est reconnu mondialement pour sa finesse et son goût unique. Le sel de Camargue est le fruit d'un savoir faire ancestral transmit de générations en générations.
Par son équilibre en sel minéraux, le sel de mer reste l'un des meilleurs pour notre organisme. Il est riche en magnésium, calcium, potassium et en oligo-éléments.
Contrairement à d'autres sels, une pincée suffit pour sublimer les saveurs de vos plats.

Des aromates de première qualité
Passionné par le goût et la qualité exceptionnelle du sel de Camargue, l'Atelier du sel, a élaboré dans le respect du savoir-faire traditionnel, une gamme unique de sels aromatisés à partir d'ingrédients naturels : herbes fraîches, sel au vin des sables, échalote, ail, agrumes...